I am nor choosing possibility a nor b.. I think savage is doing a great job but is all the time overwhemed by what he is doing : too much things at one time ... he first announced the expansion ( since he is alone) for 1rst of JUly) and there's no more releasing date now !!
At the same time he tries to develop an applicatin that would require many more people on it, for the Ipod Touch / Iphone ..... I reallly think he should find at least on other person that works full time for MoM and prairiegames to finally release that Expansion, get rid of the major server problems even if he is not the cause of them all and can't really do anything if the server hoster crashed, and THEN get to his Iphone app Idea..
so I'd say a choice C which would be between the two you offer us ..
btw I think you can create polls as well .. I'll check that but you could
when you're creating a topic you should see this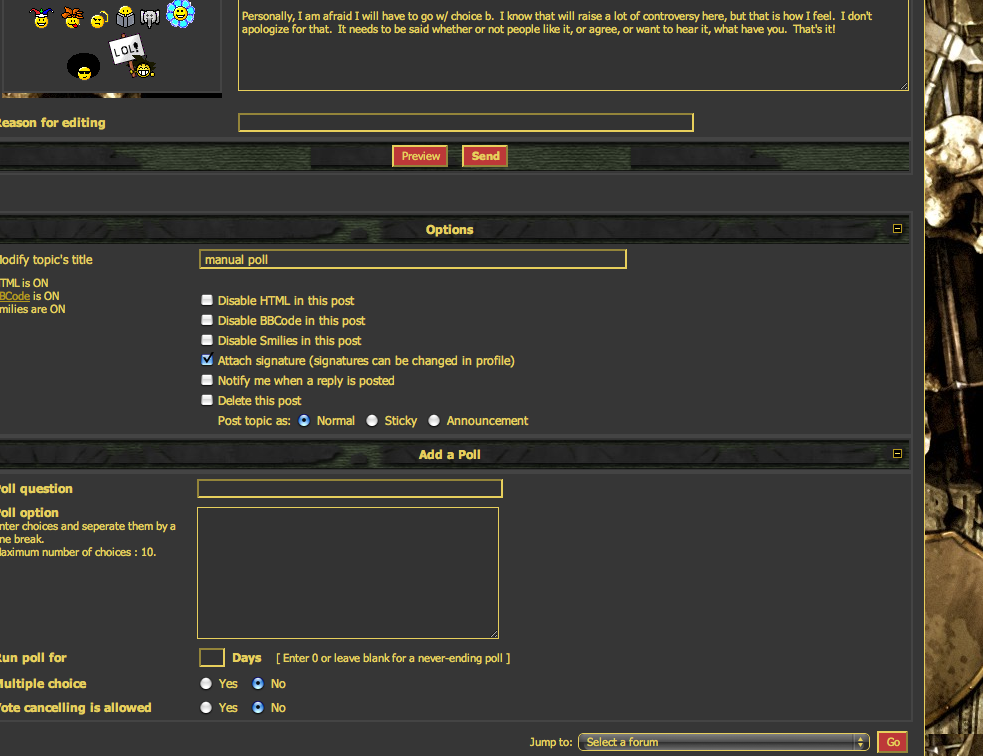 don't you see the poll making section at the bottom ? you normally should .. Try o edit your post ... By the way if you still don't see it please, let me now

_________________
• THE officer of the guild ! {USER}

• MoD character
-->Necrogobby necro/war/reveal lvl 100/100/100
-->Looking for every necromancer tomes and Scrolls you could have, and don't need ....

• FoL character
-->Vynils Barb/cleric/druid 7/5/0
-->Moustache Barb/shaman/bard 15/11/5

• One Of The Main Officers
• Creator of this web site
• Feel Free To Post On The Forum